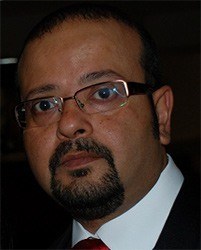 Mr Aniruddha Chakravarti
MS, FRCS (Urology), MSc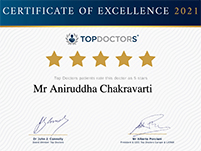 Consultant Urological Surgeon,
The Royal Wolverhampton Hospitals NHS Trust
Senior Clinical Lecturer in Urology, University of Birmingham, UK.
Special interests
Robotic and Laparoscopic surgery (keyhole surgery) of the upper urinary tract, Laser surgery (HoLEP and Green Light Laser) of the prostate, UROLIFT procedure for prostate, surgery for stone disease, Prostate cancer diagnostics using MRI guided biopsies
Mr Aniruddha Chakravarti qualified as a medical graduate in 1990 and attained post graduate training in general surgery before embarking onto an extensive training in Urology. Amidst his experience in General Urology, Mr Chakravarti has developed a special interest in Robotic and Laparoscopic surgery of the upper urinary tract, all surgical procedures for benign prostatic enlargement including all types of laser surgery and UROLIFT procedure and stone disease. He has received intensive laparoscopy training from the European Institute of Telesurgery in Strasbourg, France, and has obtained a Diploma in Laparoscopic Surgery from the Institute.
He works as a Consultant Urological Surgeon at the Royal Wolverhampton Hospitals NHS Trust and regularly performs da Vinci Robot assisted and pure laparoscopic surgery of the upper urinary tract to provide a service for treating kidney cancers.
He has also been through intensive training and has over four years of experience of using all kinds of lasers for prostatic surgery and is one of the few surgeons experienced in Holmium-YAG laser enucleation and morcellation of prostate as well as the recently developed and least invasive UROLIFT procedure in suitable cases.
A primary advantage of HoLEP over other laser prostatectomy techniques is that it can rapidly create a large cavity by immediately removing obstructing tissue, rendering it suitable for large prostates of up to 100 grams. The coagulative ability of the holmium laser effectively seals tissue planes as the operation progresses, which makes HoLEP a relatively bloodless operation with a concomitant reduction in transfusion requirement, and also avoids the dangers of systemic fluid absorption.
The principal advantage of the UROLIFT procedure is providing symptom relief while maintaining sexual function and the procedure is mostly done as a day case with no catheter required at the end of the procedure.
Hospital affiliations
Mr Chakravarti is a Consultant Urological Surgeon at The Royal Wolverhampton Hospitals NHS Trust and Senior Lecturer in Urology at the University of Birmingham, UK. He is the founder and leader of Urology Consultancy (Birmingham) Limited.
Research/Publications
Mr Chakravarti has researched well and published in leading peer reviewed journals in Urology, and presented in various international meetings on the topics of laser enucleation of prostates, stone diseases and laparoscopy.His major research interest has been development of an encrustation free catheter. Currently he is working on a number of national research projects in Urology as Principal Investigator and Co-Investigator.
Professional Memberships
European Association of Urology
The British Association of Urological Surgeons
The Royal College of Surgeons in England
His practising ethics are to provide a personalised and innovative high quality of care for his patients.